Tour Information
Korea is an exciting tourist destination with many interesting places to visit and many different cultures to experience. To explore Korea's diversified and unique heritage, various kinds of tour packages are provided below as an option especially for our accompanying participatns. Those who wish to join the tours are advised to register in advance.
Tour Reservation Deadline: May 1, 2016
• All tour programs are requiring minimum person and if minimum number of persons is not reached, the program can be cancelled or substituted by another program with notice to participants, or may proceed at an altered rate with the consent of all participants.
• Credit card info is required to secure your reservation and tour fee will be paid by given credit card when the tour confirmed with the minimum person for each tour.

Date /Time
May29(Sun), 2016/ 09:00 ~ 15:00
Price
KRW 69,000/Person (Min. 30 People)
Itinerary
DMZ Tour [Imjingak Park - Freedom Bridge - ID Check - Unification village (Pass by) - The 3rd Invasion Tunnel(DMZ Theater, Exhibition Hall) - Dora Observatory - Dorasan Station - Imjingak Park] ▪ Lunch
Conditions
▪ Including all admission fees
▪ Transportation by bus
▪ With an English speaking guide assistance
▪ Including lunch
DMZ Tour

Imjingak, located 7 km from the Military Demarcation Line, is now at the forefront of tourism related to the Korean Conflict. It was built in 1972 with the hope that someday unification would be possible. Three-storied Imjingak is surrounded by several Monuments, Unification Park and North Korea Center. 400 kinds of photos and documents showing the stark reality of North Korea are displayed in the North Korea Center of Unification Board. Outside Imjingak, there are 12 kinds of tanks and crafts on display that were used during the Korean Conflict.

The 3rd Tunnel was discovered on October 17, 1978. It is located 52km from Seoul. It was estimated that it took approximately an hour for 10,000 soldiers to move through the tunnel. When this tunnel was first discovered, North Koreans insisted it was made by South Koreans in a plot to invade North Korea. However, this theory proved eventually to be false.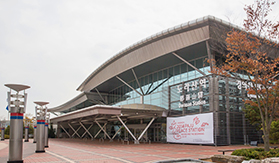 Dorasan Observatory is located nearby the 3rd Tunnel. From this observation platform, North Korean military personnel are visible, and so are the highlights of Gaeseong and the Geumgangsan Diamond Mountains.
Dorasan station can be reached by getting on the Gyeongui Line from Seoul Station. Once you reach Munsan Station, you can transfer to a train bound for Imjingang Station. After presenting your identification at Imjingang Station, you can get on a train bound for Dorasan Station. Since it is the northernmost part of South Korea, Dorasan Station will also play the role of customs and immigration for visitors entering South Korea through the station when the Gyeongui Line Railroad connection is completed.