Tour Information
Korea is an exciting tourist destination with many interesting places to visit and many different cultures to experience. To explore Korea's diversified and unique heritage, various kinds of tour packages are provided below as an option especially for our accompanying participatns. Those who wish to join the tours are advised to register in advance.
Tour Reservation Deadline: May 1, 2016
• All tour programs are requiring minimum person and if minimum number of persons is not reached, the program can be cancelled or substituted by another program with notice to participants, or may proceed at an altered rate with the consent of all participants.
• Credit card info is required to secure your reservation and tour fee will be paid by given credit card when the tour confirmed with the minimum person for each tour.

Date /Time
May 30(Mon), 2016 ~ June 5 (Sun), 2016 / 13:00~17:00
Price
KRW 91,000/Person (Min. 10 People)
Itinerary
Changdeokgung Palace(Secret gardon) ▪ Insadong
Conditions
▪ Including all admission fees
▪ Transportation by bus
▪ With an English speaking guide assistance
▪ Excluding lunch
Changdeokgung Palace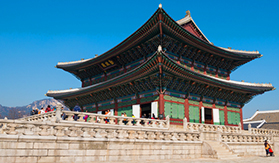 Changdeokgung palace was the second royal villa built following the constructionof Gyeongbuk Palace in 1405. The palace grounds are comprised of a public palace area, a royal family residence building, and the rear garden. It was the principal palace for many of the Joseon Kings and is the most well-preserved of the five remaining royal Joseon palaces.On those scores, Changdeokgung was designated as UNESCO's World Cultural Heritage in February 1997.
Insa-dong

This is street of Korean traditional culture with antique art and book shops, traditional teahouses and craft shops. It is one of Seoul's leading gallery streets and has been the location of many art galleries since olden times. With its wooden tea houses, boutique galleries and street vendors selling traditional snacks, a stroll through Insa-dong is mandatory for all visitors, especially on Sundays when the streets become traffic free and come alive with street performances, buskers and throngs of young and old who have come to experience one of Seoul's most fascinating and creative neighborhoods.