Tour Information
Korea is an exciting tourist destination with many interesting places to visit and many different cultures to experience. To explore Korea's diversified and unique heritage, various kinds of tour packages are provided below as an option especially for our accompanying participatns. Those who wish to join the tours are advised to register in advance.
Tour Reservation Deadline: May 1, 2016
• All tour programs are requiring minimum person and if minimum number of persons is not reached, the program can be cancelled or substituted by another program with notice to participants, or may proceed at an altered rate with the consent of all participants.
• Credit card info is required to secure your reservation and tour fee will be paid by given credit card when the tour confirmed with the minimum person for each tour.

Date /Time
May 30(Mon), 2016 ~ June 5 (Sun), 2016 / 13:00~17:00
Price
KRW 105,000/Person (Min. 10 People)
Itinerary
Namsan cable car - N Seoul Tower ▪ BukchonHanok Village
Conditions
▪ Including all admission fees
▪ Transportation by bus
▪ With an English speaking guide assistance
▪ Excluding lunch
N Seoul Tower

Seoul Tower opened to the public on October 15, 1980 and has become a major tourist attraction. The 236.7m Seoul Tower sits atop Namsan Mountain (243m), Seoul Tower offers panoramic views of Seoul and the surrounding areas. The view is so stunning that many consider Seoul Tower the best tower in Asia.
BukchonHanok Village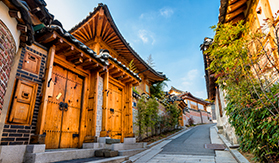 Surrounded by Gyeongbokgung Palace, Changdeokgung Palace and Jongmyo Shrine, BukchonHanok Village is home to hundreds of traditional houses called 'hanok' that date back to the Joseon Dynasty. The name, 'Bukchon,' which literally translates to 'northern village,' came about as the neighborhoods that the village covers lie to the north of the two significant Seoul landmarks, Cheonggyecheon Stream and Jongno.