Tour Information
Korea is an exciting tourist destination with many interesting places to visit and many different cultures to experience. To explore Korea's diversified and unique heritage, various kinds of tour packages are provided below as an option especially for our accompanying participatns. Those who wish to join the tours are advised to register in advance.
Tour Reservation Deadline: May 1, 2016
• All tour programs are requiring minimum person and if minimum number of persons is not reached, the program can be cancelled or substituted by another program with notice to participants, or may proceed at an altered rate with the consent of all participants.
• Credit card info is required to secure your reservation and tour fee will be paid by given credit card when the tour confirmed with the minimum person for each tour.

Date /Time
May 30(Mon), 2016 ~ June 5 (Sun), 2016 / 13:00~17:00
Price
KRW 91,000/Person (Min. 10 People)
Itinerary
NamsanHanok Village - Korean calligraphy ▪ Hanji Arts - Myeongdong
Conditions
▪ Transportation by bus
▪ With an English speaking guide assistance
▪ Excluding lunch
NamsanHanok Village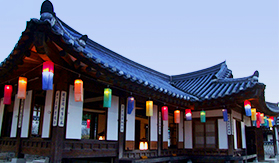 NamsangolHanok Village is a collection of five hanoks (traditional Korean houses) from the Joseon Dynasty (1392-1910), recovered from different parts of the city and relocated to the northern foot of Namsan mountain. The interiors of each of these five houses reflect owners from different walks of life, from the middle class to the yangban (who were mainly high government officials, noblemen and aristocrats). At the hanok village, international visitors can participate in traditional Korean activities such as archery and enjoy traditional Korean performances as well. Anyone who is curious about Korean wedding culture should visit the village on the weekend when the wedding ceremony reenactments take place.In addition, the Taekwondo experience program for foreigners is held at 11 a.m., 2 p.m., and 5 p.m. on Wednesday and Saturday every week at NamsangolHanok Village
Korean calligraphy & Hanji Arts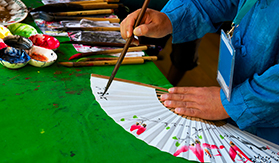 Korean calligraphy is the Korean tradition of artistic writing in Hangul. NamsangolHanok Village operates several Korean traditional experience programs. Visitors can learn to write Hangeul calligraphy using a traditional brush; learn traditional Korean tea ceremony etiquette; try on beautiful hanbok; learn to play samullori, a type of traditional Korean music; and make various arts and crafts using hanji, traditional Korean paper.
Myeongdong

Myeong-dong is one of the primary shopping districts in Seoul. The two main drags meet in the center of the block with one beginning from Myeong-dong Subway Station (Seoul Subway Line No. 4) and the other from Lotte Department Store at Euljiro. Many brand name shops and department stores line the streets and alleys. Common products for sale include clothes, shoes, and accessories. Unlike Namdaemun or Dongdaemun, many designer brands are sold in Myeong-dong.