Accommodation
The Housing Bureau is pleased to offer a hotel reservation service for all the participants of NetSci2016. Below official hotels were selected after careful consideration of several factors; particular security, moderate price, convenient traffic situation, and etc. Deadline for Hotel reservation is April 30, 2016. For detailed information, please refer to our homepage.
Process


Step 1
Download
Hotel Reservation From


Step 2
Fill out and Send it to the
Housing Bureau of NetSci2016
Email : netsci-housing@kimstravel.com
Fax : +82-2-571-9921


Step 3
Receiving Confirmation
Letter after completion of payment
Official Hotels(in KRW)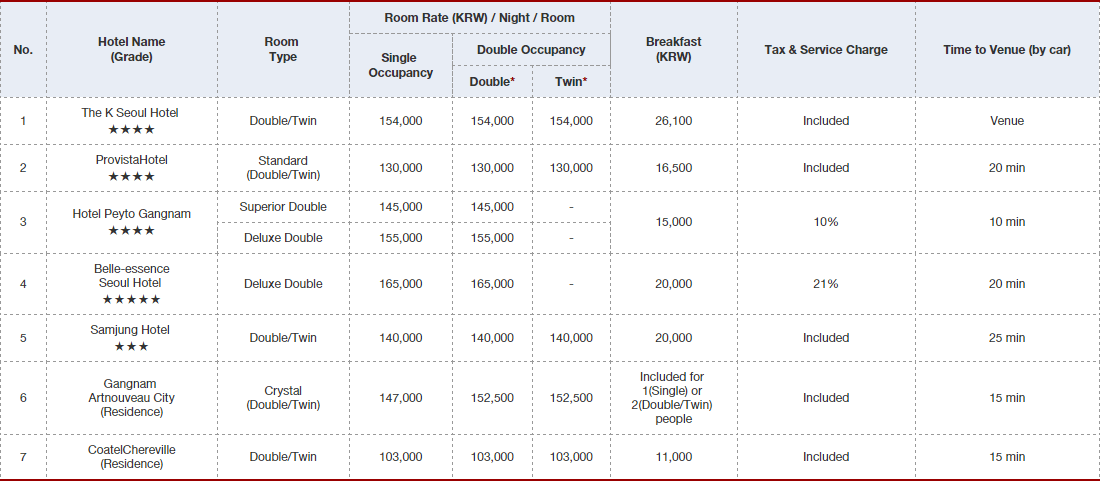 *Double: 1 bed, Twin: 2 separated beds
Reservation policy
General Announcement

Hotel Reservation Deadline: April 30, 2016. (After the deadline, any request cannot be guaranteed.)
Reservations will be made on a first come and first served basis.
Early check-in (before 15:00) & late check-out (after 12:00) cannot be guaranteed and extra charge will be made
For group reservation, please request it to Housing Bureau by e-mail.
The hotel list & room rates are subject to change due to the local conditions.

Payment Information

The rate only covers roomand other expenses such as breakfast (excluding Gangnam Artnouveau City, Eastern I), mini-bar, laundry service and etc. will incur personal bill and should be paid to the hotel when you check out.
Confirmation letter will be sent when the 1 night deposit payment is made.
Receipt will be issued by Housing Bureau upon your request.

1) The K Seoul Hotel

The room will be guaranteed by the given credit card information and room rates will be charged by the hotel when you check-out, receipt will be issued accordingly.
Confirmation letter will be sent within a week from the day you make reservation.

2) The Other Hotels

One-night room rate will be charged to the given card by Housing Bureau(Kim's Travel Service Co., Ltd.) within one week from the day you make your reservation and the remaining balance will be charged on the end of Aug, 2016.
Receipt will be issued by the Housing Bureau upon your request.
Confirmation letter will be sent when the deposit is made.

Credit Card

Valid credit card information is required to confirm the reservations.

Bank transfer

If you do not have any credit card, you should remit at least one night room rate to Housing Bureau within one week and the remaining balance should be paid by the end of April, 2016.
All bank charges for remittance must be paid by the participant.
A copy of receiptfor your bank remittance with the participant's name should be sent to the housing bureau by e-mail(TBA)or fax(+82-2-571-9921).

Bank/Branch: KB Kookmin Bank / Maebong Br.
Account No.: 519768-11-001860
Beneficiary: Kim's Travel Service Co., Ltd
SWIFT Code: CZNBKRSEXXX
Bank Address: Dogok-dong, Gangnam-gu, Seoul, Korea, 135-272
Description of Participant: Participant's Name, NetSci2016
Cancellation & Refund Policy
Any change or cancellation requests must be made by e-mail or fax to the Housing Bureau.
All dates are based on Korean standard time (GMT+9hours).
Refund will be made after the congress due to administrative reasons and bank service charges will be deducted from the refund amount.
Cancellation policy for group booking will be informed through an invoice.
| | |
| --- | --- |
| Cancellation request | Policy |
| Until 30 April | No penalty |
| From 1 Mayor No-show or Early departure | No refund and full payment will be charged as penalty. |
※No-show: do not check in without any notice in advance.
The Housing Bureau of NetSci 2016: Kim's Travel Service Co., Ltd
Fax: +82-2-571-9921 / E-mail: netsci-housing@kimstravel.com
4F, 2728 Nambusunhwan-ro, Gangnam-gu, Seoul, Korea